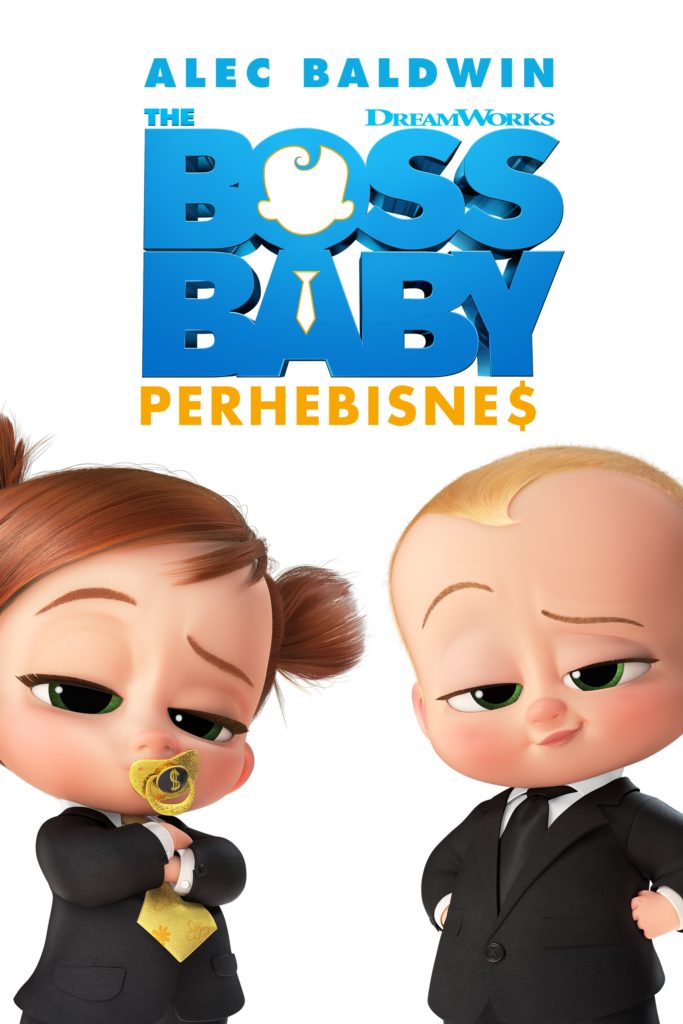 License required for the public film screening
According to the Finnish Copyright Act, public screening of the film requires permission. With the movie license annual permit, you can present the service's software from a source intended for private use of your choice.
The Boss Baby 2: Perhebisnes
2021 | 107 min | K-7 | adventure, animation, comedy
Tim and Pikku-Pomo, or his little brother Ted, have grown up and drifted apart. Tim is married and has become a stay-at-home dad. Ted, on the other hand, works as a manager in the financial industry. Soon they are brought together by a new boss with a completely new vision and a dashing attitude… and ideas for a whole new family business.
Tim and his wife, Carol, who brings bread to the family table, live in the suburbs with their talented 7-year-old daughter, Tabita, and their adorable new baby, Tina. Tabitha, who is at the top of her class, admires her Uncle Ted and wants to grow up like him. Tim, who still has the same vivid imagination as when he was a child, is worried about Tabitha. He is afraid that the girl focuses too much on school and doesn't remember to enjoy her childhood.
One day, baby Tina reveals herself to be an undercover agent for BabyCorp (surprise!), tasked with uncovering the dark secret of Tabitha's school founder, the mysterious Dr. Erwin Armstrong. A new adventure begins, which makes the brothers Tim and Ted find each other again and gives them a reason to think about what is important in life. (Source: Finnkino Oy)
Watch the movies online
Buy now:

Rent now:
Stream now:
---
About the movie
Keywords
communication skills
courage
humoristic
imagination growth
postion of women
relationships
team work
warmth
Educational levels
middle schools
preschools
primary schools
For media educator
In the first Boss Baby movie, Tim got a little brother who was much more than just an ordinary, troublesome baby. The sequel gets going quickly and doesn't just repeat the events of the previous film. In terms of understanding the characters and the plot, it is good if the viewer has also seen the first The Boss Baby movie. In Boss Baby's world, some babies behave like hard-boiled businessmen and women.
Goofing off is reserved for unsuspecting adults, and in their free time, babies make business calls to each other and conquer the world. The fast-paced comedy for the whole family has plenty of twists and turns and energy. The story or narration has not been composed with the youngest viewers in mind, but the eventful, surreal and fast-paced romp can still entertain people of all ages.
Boss Baby: The Family Business movie is surrounded by questions about the school world and its competitiveness. The teaching of the story emphasizes teamwork and mutual friendship between siblings. (Source: Media-avain)