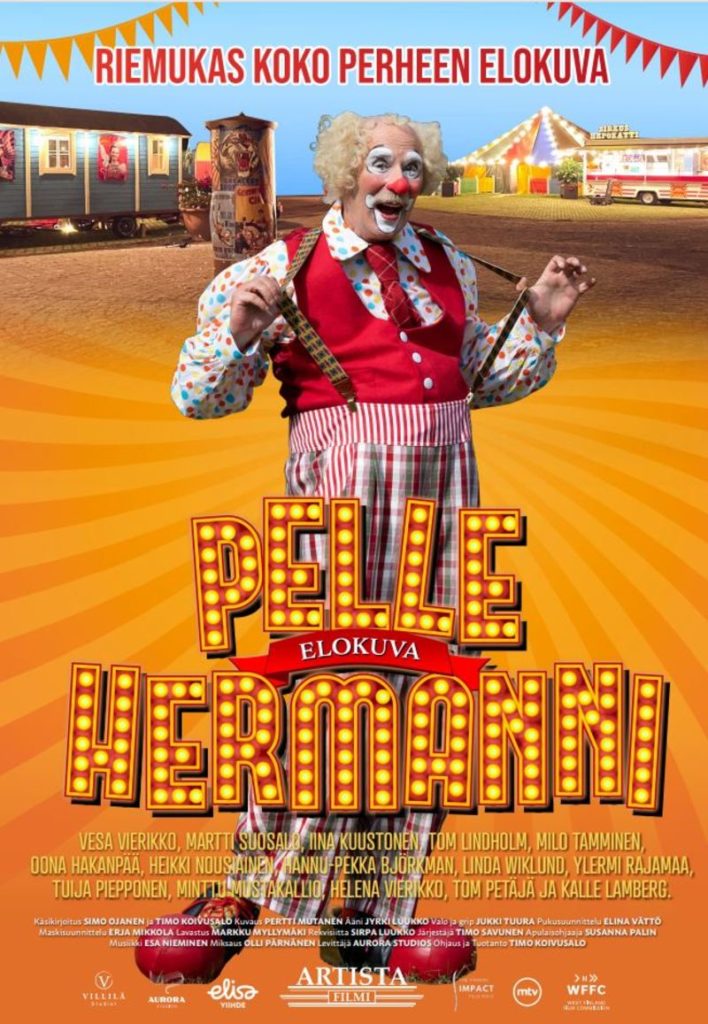 License required for the public film screening
According to the Finnish Copyright Act, public screening of the film requires permission. With the movie license annual permit, you can present the service's software from a source intended for private use of your choice.
Pelle Hermanni
2022 | 80 min | S | family, fantasy
Once written by Simo Ojanen, the hearty character Pelle Hermanni had adventures in TV channel show called "Ylen Pikku Kakkonen" from 1978-1988. The big favorite character of several generations now enters the 2020s with the movie in his big clown shoes, ready to conquer new arenas.
Pelle Hermanni goes in search of his father, whom he hasn't seen since he left to measure the Earth with his feet. Magician Max's son, ten-year-old Roni, sneaks behind. Here begins an exhilarating adventure full of magic, crazy twists, and colorful circus life, a film for children of the new generation and adults hungry for nostalgia.
The film is a fast-paced and good-natured story suitable for all ages, with the theme of caring for others and friendship. (Source: Aurora Studios)
Watch the movies online
Stream now:
---
About the movie
Keywords
domestic
emotional skills
friendship
humoristic
imagination growth
optimistic
rolemodels
safe
unambiguous
warmth
For media educator
Pelle Hermanni film starts from the fascinating world of the circus, but the search for one's father transports the traditional story to the nostalgic milieu of a small town. Pelle Hermanni has no scary scenes which proceed safely and calmly. Instead, due to misunderstandings, the elderly, thoughtful, and calm clown has to go through the feelings of being bored and rejected before everything ends happily and for the best.
Hermanni hasn't seen his father for years, and at some point, he is also unsure if his father still loves and cares. The flaxen-headed children of competing magicians, Roni and Mona appear as lively and competent child characters in the film. Children set an example for adults in reasonable behavior and settling disputes. (Source: Media-avain)