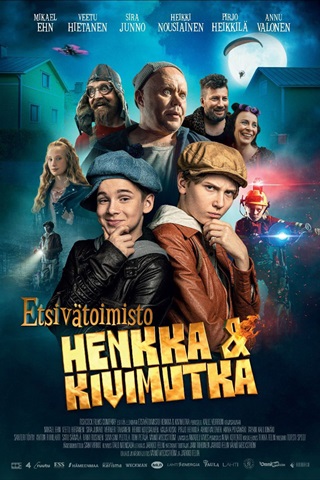 License required for the public film screening
According to the Finnish Copyright Act, public screening of the film requires permission. With the movie license annual permit, you can present the service's software from a source intended for private use of your choice.
Etsivätoimisto Henkka & Kivimutka
2022 | 97 min | K-7 | adventure, family
On his way to school, Henkka Virtanen finds evidence of a possible crime. His friend J.K. Together with Kivimutka, the boys decide to find out what happened, because these criminal matters are part of the tasks of the detective agency founded by the boys. When it turns out that mailboxes in the area have disappeared during the night, the detective agency already has two crimes to solve. A fun and exciting adventure begin, where the boys also have to face their fears. (Source: Future Film)
Watch the movies online
Rent now:

Buy now:

Stream now:

---
About the movie
Subjects
arts
finnish
mathematics
music
Keywords
communication skills
costume design
domestic
emotional skills
everyday
humoristic
imagination growth
music
reading skills of movie
rolemodels
succeeding
warmth
For media educator
Detective agency Henkka ja Kivimutka is based on Kalle Veirto's children's book series of the same name, which started in 2008 and is still ongoing. The story of the film is inspired especially by the first book in the series. Pantyhose found in the neighbor's hedge and an ax lying next to the red liquid on the asphalt make Henka, who has a vivid imagination, suspect murder. Enthusiastic about detective stories, Henkka has founded a detective agency with her expressive friend Kivimutka, which after the school day begins to investigate the case.
Solving the riddle requires interrogating the entire neighborhood, and the two get to know each other's weirdest neighbors through their investigations. In the tradition of Finnish children's films, the caricatured adults are largely useless, but harmless characters in the children's adventures and one of the detective duo's slightly scary neighbors turns out to be gentle. The film deals with the typical everyday life challenges of preadolescent boys, such as friendship, crushes, and going to school. Emotional skills are also discussed when both the main characters and, at the end of the film, the side characters get to verbalize their fears. In boys' imaginations, everyday situations become more colorful, but imaginations are not always needed for excitement. A nasty youth gang on dirt bikes harasses the detectives and causes a few threatening situations, which, however, are resolved quite quickly. (Source: Media-again. fi)