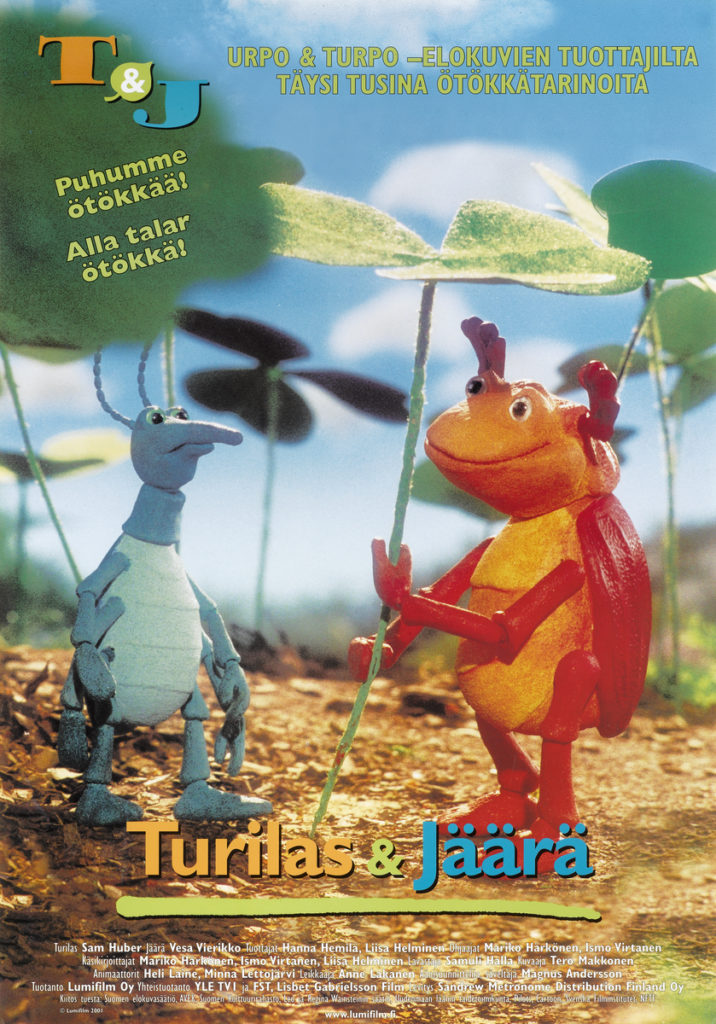 License required for the public film screening
According to the Finnish Copyright Act, public screening of the film requires permission. With the movie license annual permit, you can present the service's software from a source intended for private use of your choice.
Turilas ja Jäärä
2001 | 65 min | S | animation, family
Two bugs meet by chance and soon they become friends. They go together to look for food and end up on several adventures. At the same time, they make inventive use of discarded human objects.
Watch the movies online
Rent now:
Buy now:
---
About the movie
Subjects
biology
environmental studies
Keywords
conservation of nature
domestic
emotional skills
environmental education
friendship
friendship skills
humoristic
movie technology
nature
relationships
team work
Educational levels
preschools
primary schools
For media educator
Turilas and Jäärä (translated as cockchafer and longhorn beetle) is a puppet animation about bug friends who, on their foraging trips, invent uses for the things they find. In the middle of the morning exercise, Jäärä hears a strange buzzing and hissing outside. He checks with his telescope what the hell is going on. At the same time, some flying creature seems to fall from the heights and approaches. Soon it falls through the roof of Jäärä's home and directly into his bed.
The guest is Turilas, who soon moves in with Jäärä, and from that day their friendship begins. Jäärä is energetic and clever inventor, while Turilas is a good-natured food lover. Together, they ride around on their tandem and have exciting adventures in search of food.
Sometimes they happen to find objects invented and abandoned by people, for which they develop and invent new uses, i.e. they recycle effectively, just like cockchafer and longhorn beetle do in nature. The stories in the movie "Turilas ja Jäärä" contain clear lessons that emphasize the importance of community and consideration of others and nature. Selfishness and arrogance lead to quarrels and other difficulties, but many things can be fixed in the end. (Source: Koulukino)