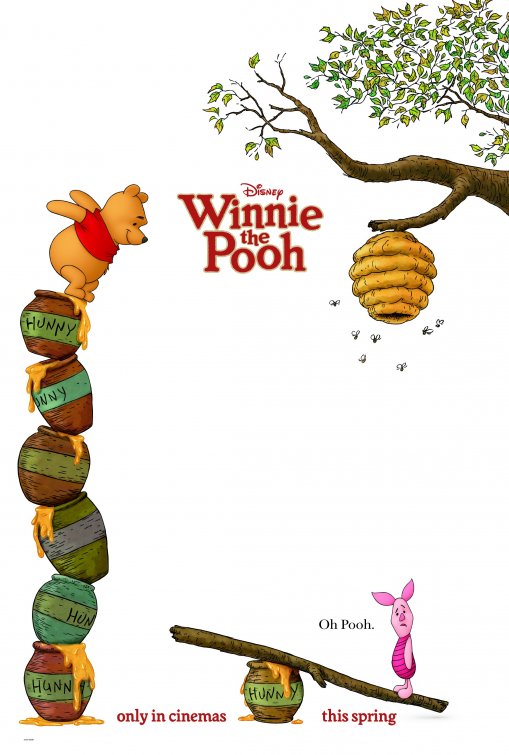 License required for the public film screening
According to the Finnish Copyright Act, public screening of the film requires permission. With the movie license annual permit, you can present the service's software from a source intended for private use of your choice.
Winnie the Pooh
2011 | 63 min | S | adventure, animation, comedy, family
Walt Disney Animation Studios returns to the Half Acre Forest in "The Winnie the Pooh Movie," the first Pooh movie from Disney Animation Studios in over 35 years. Drawing from the timeless charm, wit and hilarity of the original stories, the new film brings together the brooding, if somewhat goofy teddy bear and his friends.
"Well, he's either there or he's not," says Pooh. "And you… haven't." In addition, Owl sends the whole team to save Christoper Robin from the clutches of an imaginary monster. And so it turns out to be a real day for the little bear, who just went in search of a little honey. Directed by Stephen J. Anderson and Don Hall. As original voice actors, e.g. Jim Cummings, Craig Ferguson and John Cleese.
---
About the movie
Keywords
animal characters
emotional skills
environmental education
everyday
fear
friendship
humoristic
imagination growth
intertextual
multiliteracy
music
optimistic
respectful
rolemodels
safe
succeeding
unambiguous
warmth
Educational levels
preschools
primary schools
Genres
adventure
animation
comedy
family
For media educator
Winnie the Pooh is a well-known character whose thoughts and love for honey are probably familiar to most people. In the warm Winnie the Pooh movie, the action starts with small and everyday things. The half-hectare forest is a familiar environment for the characters, but searching for Eyyore's new tail and setting the trap for the imaginary monster encourage you to explore familiar objects and places imaginatively.
Friends are very different from each other, but by combining their resources, they can solve situations in the best way. The story, told at a calm pace, is punctuated by songs. Traditional cartoon animation is easy and clear to follow. Humor-tinged adventures and riddles are just the right amount of excitement for young viewers. Winnie the Pooh movie is the right choice if you are looking for a safe and reasonably short (1 hour) first movie for a child under school age.
Of course, the movie offers a nice moment of relaxation even for elementary school children. (Source Media-avain.fi)