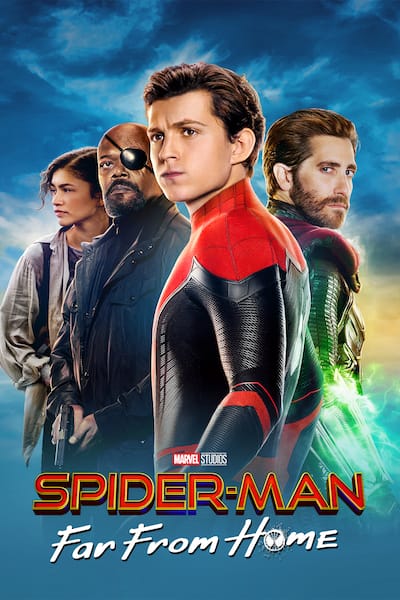 License required for the public film screening
According to the Finnish Copyright Act, public screening of the film requires permission. With the movie license annual permit, you can present the service's software from a source intended for private use of your choice.
Spider-Man – Far From Home
2019 | 129 min | K-12 | action, adventure, sci-fi
The story of the film begins after the tragic events of Avengers: Endgame. 16-year-old Peter Parker has returned to high school life and home to Aunt May in Queens, New York. He doesn't want to be a superhero right now, because he misses the dead Tony Stark very much. In addition, the teenager's thoughts are filled with MJ, to whom Peter plans to confess his crush on a class trip to Europe.
Nick Fury tries to pursue Peter, but he is no longer interested in S.H.I.E.L.D. Fury and Maria Hill and their gang have to resort to tougher measures and appear in Peter's life on the European continent, where strange elementals are causing chaos. To help against these characters, they have enlisted the mysterious Mysterio, but Spider-Man's help is also needed. So Peter has to balance again between the identity he keeps a secret from his friends and the life of an ordinary high school boy – while taking a class trip on the other side of the globe.
Directed by Jon Watts. As actors, e.g. Tom Holland, Samuel L. Jackson and Jake Gyllenhaal.
---
About the movie
Keywords
humoristic
imagination growth
optimistic
superhero
thought awakening
warmth
For media educator
Despite its title, Spider-Man: Far from Home is not a sequel to the previous Spider-Man film, Spider-Man: Homecoming, but instead a direct sequel to Avengers: Endgame, which was released in the spring. At the beginning of the film, the events of Endgame are recounted to refresh the memory, but you can get more out of the adventure if you have seen the latest Avengers adventures.
Endgame ended on a sad note, which is also reflected in the events of the new Spider-Man – after all, Peter Parker lost his close mentor. In the film, teenage Peter balances between his life as a superhero and his life as a normal teenager. He should shoulder the huge responsibility of leading the world-saving superheroes. Elsewhere, he is nervous about confessing his feelings to the object of his crush. He also lacks an adult with whom to share ideas about superheroism.
After a sad beginning, however, we know a humorous and warm-hearted teen movie, which is spiced up with elements of a superhero movie and a road movie. The film also plays with the idea of ​​what is real and what is imagination. (Source Media-avain.fi)