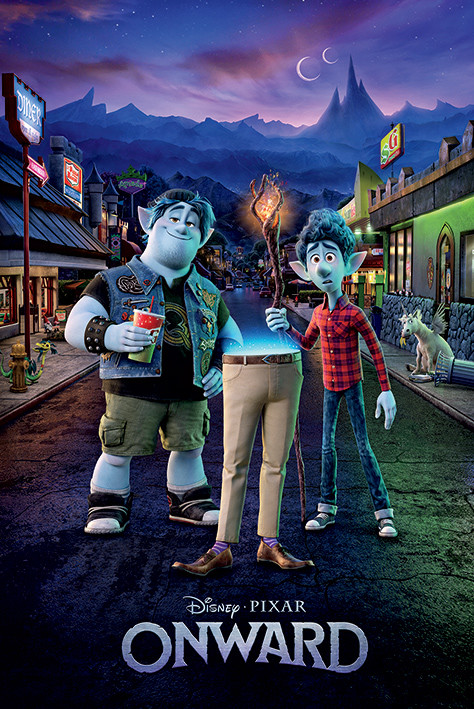 License required for the public film screening
According to the Finnish Copyright Act, public screening of the film requires permission. With the movie license annual permit, you can present the service's software from a source intended for private use of your choice.
Onward
2020 | 103 min | K-7 | adventure, animation, comedy, family, fantasy
When teenage brothers unexpectedly get the chance to spend one more day with their passed father, they go on a strange mission in Aaron's heady Guinevere van. Like any good adventure, along the way you will encounter magic spells, enigmatic maps, insurmountable obstacles and discoveries that break the limits of imagination.
When the boys' brave mother discovers the boys are missing, she joins forces with an ex-warrior who happens to be part lion, part bat, and part Scorpio—and sets out to find them. If you don't take into account the dangerous curses lurking along the way, the day promises to be a real adventure that will exceed even their wildest dreams.
Directed by Dan Scanlon. The original voice actors are Tom Holland, Chris Pratt and Julia Louis-Dreyfus.
Watch the movies online
Buy now:

Stream now:
---
About the movie
Keywords
animal characters
diverse
emotional skills
humoristic
identity and growing
imagination growth
intertextual
optimistic
respectful
rolemodels
succeeding
thought awakening
warmth
Educational levels
middle schools
primary schools
Genres
adventure
animation
comedy
family
fantasy
For media educator
Disney-Pixar's Onward is an animated film made based on traditional adventure stories and fantasy imagery that lets the imagination fly. The characters are mythical creatures familiar with mythology, fantasy and folklore, who have become lazy with the comforts of modern life and have forgotten magic. The main characters are the neighborhood elf brothers who throw themselves into a surprising adventure.
Read more from Koulukino