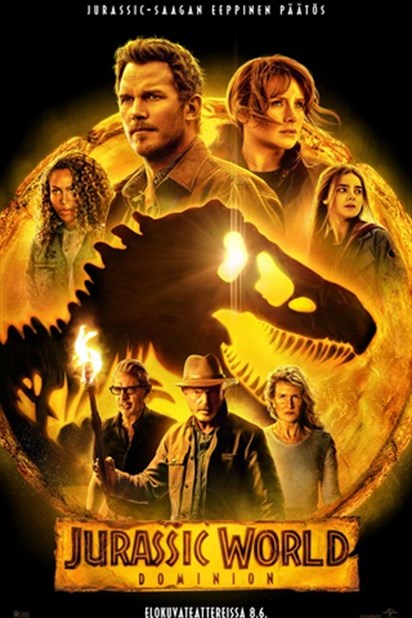 License required for the public film screening
According to the Finnish Copyright Act, public screening of the film requires permission. With the movie license annual permit, you can present the service's software from a source intended for private use of your choice.
Jurassic World: Dominion
2022 | 147 min | K-12 | action, adventure, sci-fi
Directed by Jurassic World chief architect Colin Trevorrow, Dominion takes place four years after the destruction of Isla Nublar. Dinosaurs now live – and prey – alongside humans all over the world. The future is now shaped by the fragile balance of terror. Will man retain his position as the crown of creation and at the top of the food chain when forced to share the planet with the most fearsome beasts of all time? (Source: Finnkino Oy)
---
About the movie
Keywords
diverse
environmental education
equality
imagination growth
postion of women
rolemodels
thought awakening
Educational levels
high schools and vocational schools
middle schools
For media educator
Jurassic World: Dominion is the third part of the Jurassic World films and at the same time a continuation of the Jurassic Park films completed in the 1990s. Knowing the previous films is good for understanding the film, because the events are based on what happened before. In addition to this, the main characters familiar from both film series will be featured, played by Chris Pratt, Bryce Dallas Howard, Laura Dern, Jeff Goldblum and Sam Neill.
Like the previous Jurassic World films, Jurassic World: Dominion is a fast-paced and spectacular action-packed adventure film featuring several different species of dinosaurs that, after the events of the previous film, live in the world alongside humans. The action scenes in the film are of the same type as in the two previous films in terms of their violence and anxiety. The film is not too exciting, scary or horror-oriented for the age limit, although the attacks of the predatory dinosaurs are spectacular. However, the biggest villain in the story is ultimately a human.
The film features a diverse cast of characters, including characters of many ages and colors. Female characters, regardless of age, are presented this time as equal actors with male characters, and they have not been left as passive background characters. (Source: Media-avain.fi)