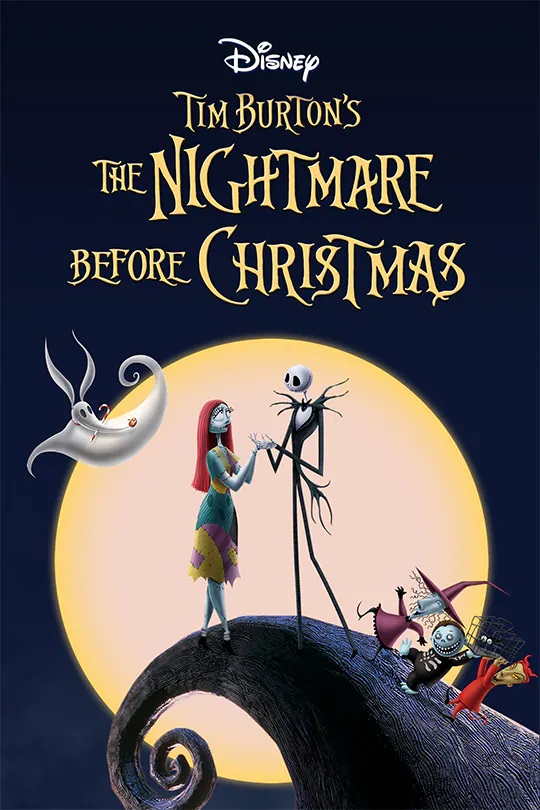 License required for the public film screening
According to the Finnish Copyright Act, public screening of the film requires permission. With the movie license annual permit, you can present the service's software from a source intended for private use of your choice.
The Nightmare Before Christmas
1994 | 76 min | K-7 | animation, family, fantasy, horror
The king of Halloween town, the skeleton Jack Skellington, leads his people every year in a wild Halloween celebration. Plans change when Jack finds out about the existence of Christmas. What exactly is Christmas, and can monsters bring Christmas to children? (Source: Media-avain.fi)
---
About the movie
Keywords
humoristic
imagination growth
intertextual
music
respectful
warmth
Educational levels
high schools and vocational schools
middle schools
preschools
primary schools
Genres
animation
family
fantasy
horror
For media educator
The Nightmare Before Christmas, invented by Tim Burton, is a distinctive animated fairy tale and fantasy musical that fascinates people of all ages. Halloween town is home to a wide variety of monsters and creeps, from zombies to witches and ghouls to mad scientists. The story is good-natured, but the movie's monsters and wonderfully horrible details can be creepy, especially for a small viewer. Age flexibility should therefore be used deliberately.
Jack, the king of Halloween, accidentally gets lost in the Christmas village and gets unusually excited. The aesthetics of Christmas is something completely new and unusual for him. Jack decides to take over the Christmas celebrations as well, but he and the other residents of Halloween have a hard time understanding what Christmas is really about. When Halloween and Christmas merge into one, there is a lot of chaos, horror, and bad mood in the homes of human children. Jack realizes he made a mistake and apologizes.
The Christmas of the movie "Nightmare before Christmas" is an elf Christmas with gift shops, gingerbread, snowmen, and polka pigs. Compared to Christmas, Halloween means terrible things and outrages, although there is also friendship, family ties, and mutual respect between the inhabitants of Halloween. (Source: Media-avain.fi)