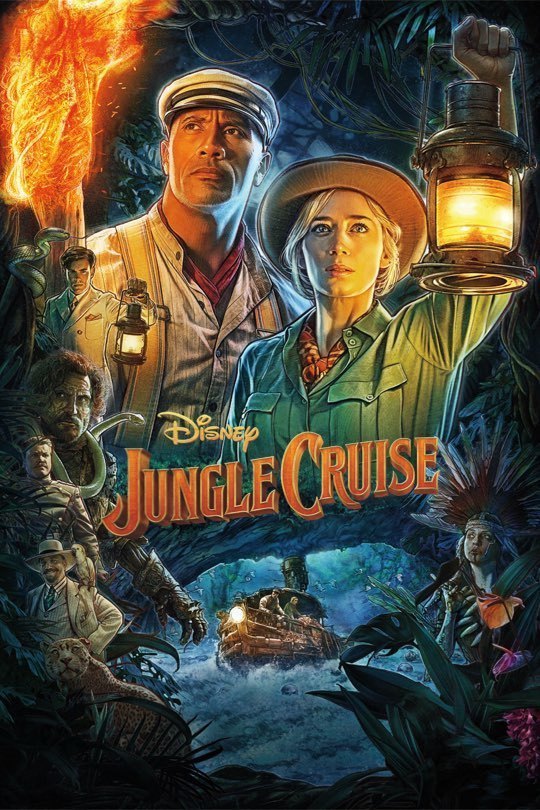 License required for the public film screening
According to the Finnish Copyright Act, public screening of the film requires permission. With the movie license annual permit, you can present the service's software from a source intended for private use of your choice.
Jungle Cruise
2021 | 127 min | K-12 | action, adventure
Favorite actors Dwayne Johnson and Emily Blunt take you on the adventure of a lifetime in Disney's Jungle Cruise, which offers a fast-paced ride through the Amazonian jungles on the journey of foul-mouthed skipper Frank Wolff and intrepid researcher Dr. Lily Houghton.
Lily travels from London to the Amazon jungle and relies on Frank's questionable guide services as they navigate the river on La Quila—Frank's dilapidated but charming boat in its own way. Lily is determined to find an ancient tree with healing powers that could revolutionize the future of medicine. This surprising pair of sleds embarks on an adventure where they encounter countless lurking dangers and supernatural forces in the deceptively beautiful hideouts of the rainforest.
When the secrets of the tree they've been searching for are finally revealed, the stakes rise as the fate of Lily and Frank—and all of humanity—hangs in the balance. Directed by Jaume Collet-Serra. As actors, e.g. Dwayne Johnson, Emily Blunt and Edgar Ramírez. (Source: Filmikamari)
Watch the movies online
Rent now:

Buy now:

Stream now:
---
About the movie
Keywords
environmental education
humoristic
imagination growth
respectful
rolemodels
succeeding
thought awakening
warmth
Educational levels
high schools and vocational schools
middle schools
For media educator
Disney's Jungle Cruise is a family film based on the classic theme park ride, where the trio of Dwayne Johnson, Emily Blunt and Jack Whitehall have an adventure along the Amazon deep into the jungle in the early 20th century. The adventure has a lot of the same atmosphere as Disney's Pirates of the Caribbean movies, which is why it can be recommended for the same target group.
As is typical for the genre, the adventure is fast-paced and full of spectacular tricks. It features supernatural elements in the form of cursed soldiers, but the action of the film is suitable for the whole family within the age limit. There are also several digitally created animal characters such as snakes, but these are not very scary either. The female character in the film is a gender-role breaker for her time, intellectually witty and independent, who doesn't stand at the feet of men and doesn't need a saving hero.
Lily, played by Blunt, is presented as a female Indiana Jones character. The traditional gender roles of children's films are also broken by Lily's softer brother, who is implied to be gay. Jungle Cruise's relationship with nature is respectful. Lily, for example, rescues captive wild animals and even though Frank, played by Johnson, has a pet leopard, the character moves relatively freely. In addition, the leopard was created digitally, and there was no need to use a real animal in the filming. (Source: Media-avain)