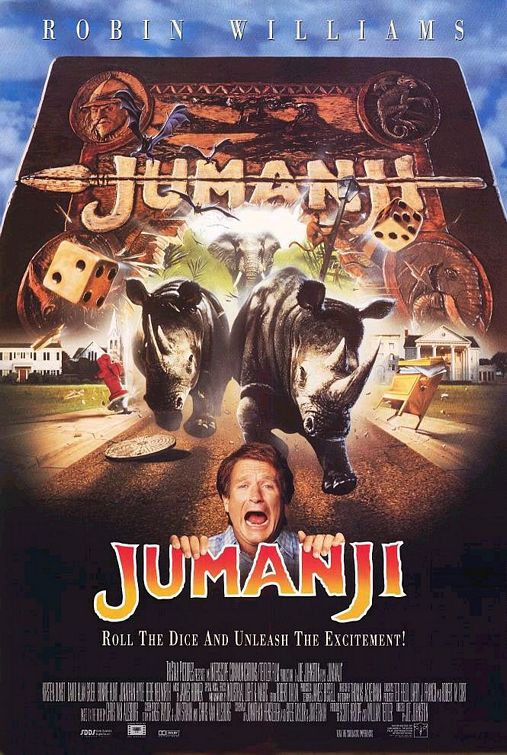 License required for the public film screening
According to the Finnish Copyright Act, public screening of the film requires permission. With the movie license annual permit, you can present the service's software from a source intended for private use of your choice.
Jumanji
1995 | 104 min | K-12 | adventure, family, fantasy
Alan Parris has been imprisoned inside the Jumanji game for 25 years. The two children manage to free Alan by playing the same game, but at the same time, they free the game's jungle animals. A tidal wave of wild animals big and small threatens a peaceful little town and the only way to fix the situation is to play another fatal game.
Directed by Joe Johnston. As actors, e.g. Robin Williams, Kirsten Dunst and Bonnie Hunt.
Watch the movies online
Rent now:

Buy now:

Stream now:

---
About the movie
Keywords
humoristic
imagination growth
succeeding
For media educator
Starring Robin Williams, the warm-hearted adventure film progresses from one extreme situation to another. A mystical board game brings the creatures of the savannah and jungle to an American city. The children get the help of Alan, a survivor hero, who has spent more than 20 years as a prisoner of the game. Siblings caught up in the game have lost their parents, and Alan has also been left alone as a child after being caught in the game.
The frame story deals with, among other things, bullying at school and the harsh expectations parents place on their children. In the end, even the boy is allowed to have soft feelings: there is no need to be ashamed of fear, emphasizes jungle orphan Alan. The clash between wild nature and the city is fun: monkeys mess around at the wheel of a police car and crocodiles lurk in the dining room. However, a family film made in the wake of Jurassic Park is not suitable for the youngest viewers. Jumanji's age limit of 12 warns e.g. about the long-lasting tension, the threat of death and light horror elements and scares contained in the film. (Source Media-avain.fi)