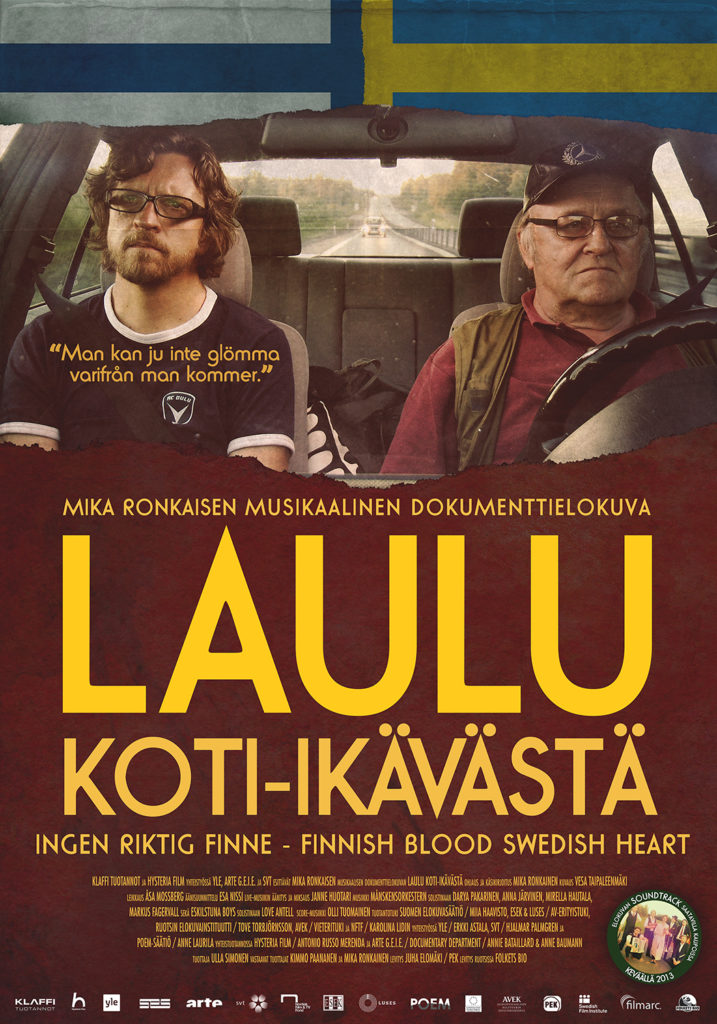 License required for the public film screening
According to the Finnish Copyright Act, public screening of the film requires permission. With the movie license annual permit, you can present the service's software from a source intended for private use of your choice.
Finnish Blood Swedish Heart (Laulu koti-ikävästä)
2013 | 90 min | S | documentary
The documentary film A song about homesickness tells the story of Kai Latvalehto, a musician from Oulu who grew up in two countries – Sweden and Finland. A middle-aged man makes a trip to his childhood landscapes in Gothenburg with his retired father Tauno Latvalehto. Father and son have a conversation during the car trip, remembering different stages of their lives. The music, made as live recordings of the film, accompanies the development of the story from the 1970s to the present day.
Watch the movies online
Rent now:
Buy now:
---
About the movie
Subjects
finnish
history
music
social studies
Swedish
Keywords
domestic
equality
informational
music
parity
respectful
social class differences
Educational levels
high schools and vocational schools
middle schools
For media educator
The multi-level story mirrors the relationship between father and son, both the protagonist Kai's relationship with his son Oiva and his relationship with his father Tauno. His childhood years in Gothenburg have left indelible marks on the man, making him feel like an outsider in Finland. Living in Sweden, Kai stood out as a Finn, in Finland he was considered a Swede. Kai's experiences in Sweden are familiar to hundreds of thousands of Finns who moved to Sweden in the 1960s and 70s. Many of the labor migrants stayed in Sweden, and the offspring of the families have become more Swedish over the years. In the past decades, two things were known about Finns in Sweden in particular: Finns were hard at work, and on the other hand, they relaxed violently by drinking booze.
Read more from Koulukino