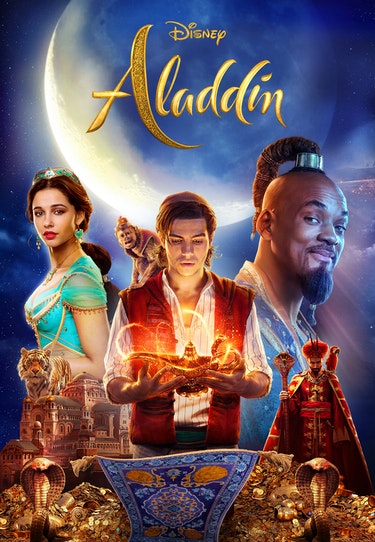 License required for the public film screening
According to the Finnish Copyright Act, public screening of the film requires permission. With the movie license annual permit, you can present the service's software from a source intended for private use of your choice.
Aladdin (Live-action)
2019 | 128 min | K-12 | adventure, comedy, family
Disney's animated classic Aladdin has been reimagined for the big screen as an energetic and exciting live-action version of the film. Aladdin has been one of the most famous and popular fairy tales of the Thousand and One Nights since the 18th century. It's the story of the penniless street rat Aladdin, the brave and determined Sultan's daughter, Princess Jasmine, and the Spirit who may be the key to their future.
Aladdin is eager to leave his life of petty crime on the streets of Agraba behind and believes he is destined for greater things. He finds a magic lamp inhabited by a wish-granting spirit and uses it to win Jasmine's heart while the crooked sorcerer is throwing blocks at the cart. Directed by Guy Ritchie. As actors, e.g. Will Smith, Mena Massoud and Naomi Scott.
Watch the movies online
Rent now:
Buy now:

Stream now:
---
About the movie
Keywords
dance
humoristic
music
succeeding
Educational levels
middle schools
primary schools
For media educator
Disney's animated film Aladdin, released in 1992, is one of the studio's most successful films. The original story of Aladdin can be found in the famous 14th-century collection of Middle Eastern folktales, The Thousand and One Nights. Disney's remake brings the fairytale-like and fast-paced story of the original animated film to life with real actors, not forgetting the musical numbers. The story of an orphan boy who lives on the streets and grows up to be a young man, whose path leads by chance to fairy-tale riches and finally to fairy-tale love, is familiar from many films.
Read more from Koulukino