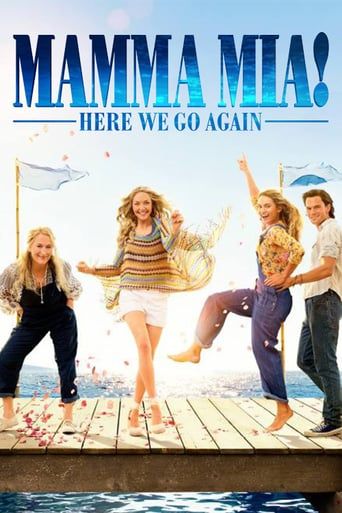 License required for the public film screening
According to the Finnish Copyright Act, public screening of the film requires permission. With the movie license annual permit, you can present the service's software from a source intended for private use of your choice.
Mamma Mia! Here We Go Again
2018 | 113 min | S | comedy, musical
A whole decade has passed since Sophie's wedding was celebrated on the island of Kalokair. Now grown up, Sophie has taken over her mother Donna's hotel. He organizes the new opening of the hotel, while finding out one thing or another about his mother's past.
This gives the film a reason to travel back to the 70s and alternate between the present and the past. Mamma Mia! Here We Go Again is a natural sequel for fans of the first part and ABBA. Directed by Ol Parker. As actors, e.g. Lily James, Amanda Seyfried and Meryl Streep.
Watch the movies online
Rent now:

Buy now:

Stream now:
---
About the movie
Keywords
friendship
humoristic
music
succeeding
warmth
For media educator
The sequel to the hit musical is a good-natured, glossy feel-good comedy. In the first Mamma Mia movie, it was speculated which of Donna's three childhood sweethearts is the father of young Sophie. The same theme continues a little more openly also in Mamma Mia! Here We Go Again: who is having sex, with whom, why, and what comes of it? Other central themes of the film are family, friendship, trust and self-confidence.
Read more from Koulukino