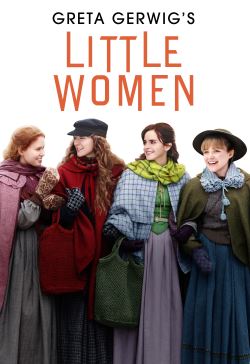 License required for the public film screening
According to the Finnish Copyright Act, public screening of the film requires permission. With the movie license annual permit, you can present the service's software from a source intended for private use of your choice.
Little Women
2019 | 135 min | S | drama
A film based on Louisa May Alcott's classic work about four sisters, Amy, Jo, Beth and Meg, and their lives in America during the Civil War.
The director is Gerta Gerwig and the actors are e.g. Saoirse Ronan, Emma Watson, Florence Pugh, Eliza Scanlen, Timothée Chalamet and Meryl Streep. Movie won an Oscar from Best Costume Design.
Watch the movies online
Rent now:

Buy now:

Stream now:

---
About the movie
Subjects
arts
ethics
finnish
history
pupil counselling
social studies
textiles and technical sloyd
Keywords
America
costume design
everyday
milieu and zeitgeist
optimistic
postion of women
respectful
rolemodels
warmth
Playlists
based on a book
Christmas
growth story
For media educator
Little Women is a historical film and a story about independent, young women. The four siblings of the Marchi family have many goals and dreams, which may be different from each other but still equally valuable. Based on Louisa May Alcott's (1832-1888) iconic girls' books, the film is a coming-of-age story that leads us to think about the concept of the good life.
Read more from Koulukino