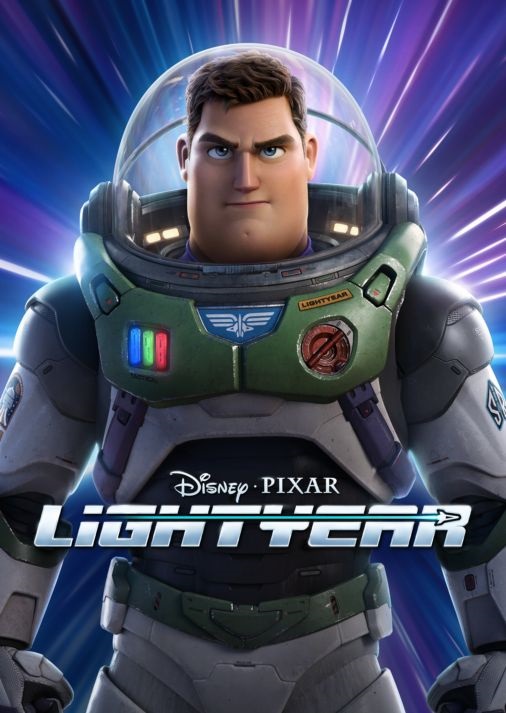 License required for the public film screening
According to the Finnish Copyright Act, public screening of the film requires permission. With the movie license annual permit, you can present the service's software from a source intended for private use of your choice.
Lightyear
2022 | 105 min | K-7 | action, adventure, animation, sci-fi
Buzz Lightyear is a very traditional hero character who thinks that things are best done when you do everything yourself. In his role as a space hero, he is used to taking action and protecting others at any cost.
As the story progresses, Buzz learns that everyone makes mistakes sometimes and the biggest demands on yourself don't necessarily come from others. The teaching of science adventure is related to the cooperation of different friendships, receiving help, and flexibility. The end result can be good, even if everything doesn't go exactly according to the original plan.
The film contains a lot of action as well as threatening and emotional scenes. The finiteness of life is also discussed. The heroes fight against aliens and quite scary robots with laser guns and explosives. Of course, there is humor that lightens the atmosphere and likable characters, but the use of age flexibility should be considered for the very youngest audiences who are not used to action films.
The film is inspired by the character Buzz Lightyear from the Toy Story films, but understanding the story does not require knowledge of Toy Story. (Source: Media-avain.fi)
---
About the movie
Keywords
defeating difficulties
friendship skills
humoristic
humoristinen
imagination growth
intertekstuaalinen
intertextual
kaveritaidot
mielikuvitusta rikastuttava
onnistumisen kokemuksia
rolemodels
roolimallit
succeeding
superhero
supersankari
vaikeuksien voittaminen
vuorovaikutustaidot
yhteistyö
Educational levels
middle schools
preschools
primary schools
Genres
action
adventure
animation
sci-fi
For media educator
The sci-fi action-adventure Lightyear, which tells the backstory of Buzz Lightyear, the space ranger who served as the model for the popular toy, follows the steps of the legendary hero after he is stranded on a hostile planet 4.2 million light years away from Earth along with the commander and crew of his space expedition.
Searching for a way to return home through space and time, Buzz is joined by a group of eager newbies and a charming companion robot cat named Sox. However, the situation gets complicated when the defiant Zurg arrives to jeopardize their mission, he pursues his mysterious goals with the help of his merciless robot army. (Source: Media-avain.fi, Walt Disney Studios Motion Pictures Finland)