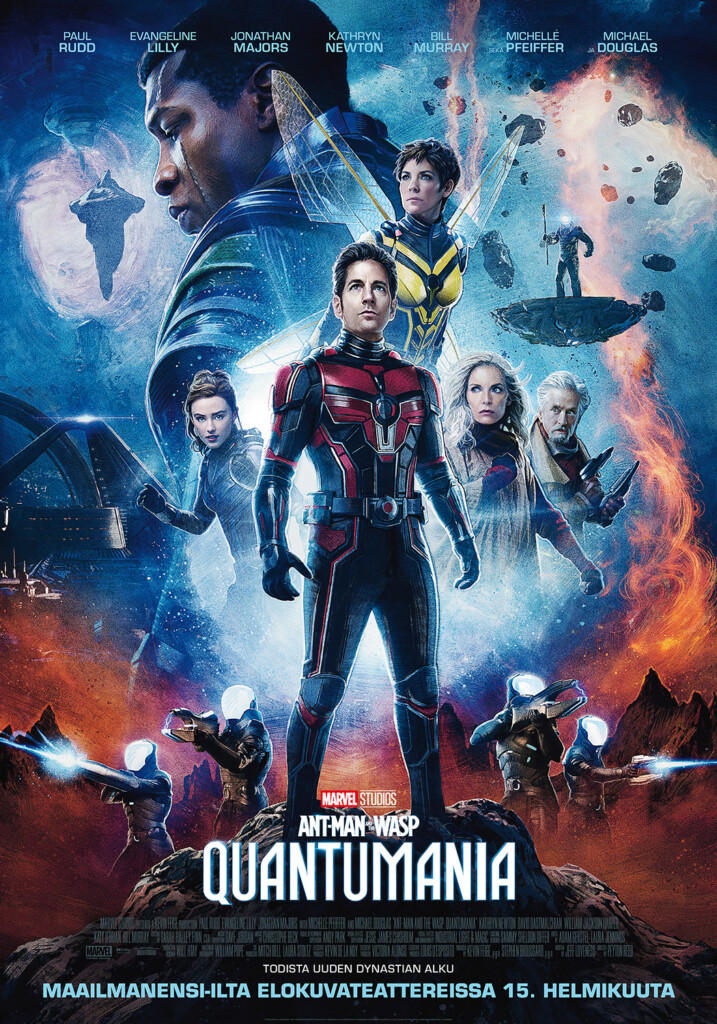 License required for the public film screening
According to the Finnish Copyright Act, public screening of the film requires permission. With the movie license annual permit, you can present the service's software from a source intended for private use of your choice.
Ant-Man and the Wasp: Quantumania
2023 | 124 min | K-12 | action, adventure, comedy
Scott Lang and Hope Van Dyne have continued their adventures in the roles of Ant-Man and Wasp. They join forces with Hope's parents, Janet Van Dyne and Hank Pym, as well as Scott's daughter Cassie Lang. The family embarks on an exploration of the quantum realm, where they discover that Janet has hidden the existence of strange cultures living there. The reason for this secrecy is that Janet encountered a threat in the quantum realm to the entire multiverse, a being named Kang, who seeks to control different versions of himself. Now, Kang has abducted them to find an escape route from the quantum realm for himself.
Watch the movies online
Buy now:

Rent now:

Stream now:
---
About the movie
Keywords
communication skills
defeating difficulties
humoristic
imagination growth
parity
relationships
respectful
rolemodels
roots
succeeding
superhero
team work
thought awakening
Educational levels
high schools and vocational schools
middle schools
For media educator
The superhero duo Scott Lang (Paul Rudd) and Hope Van Dyne (Evangeline Lilly) continue their adventures as Ant-Man and Wasp. Together with Hope's parents, Janet Van Dyne (Michelle Pfeiffer) and Hank Pym (Michael Douglas), as well as Scott's daughter Cassie Lang (Kathryn Newton), the family embarks on an exploration of the quantum realm, where they encounter new strange beings and embark on a journey that takes them to extremes they never believed were even possible. (Source: Walt Disney Studios Motion Pictures Finland)
Read more from Koulukino