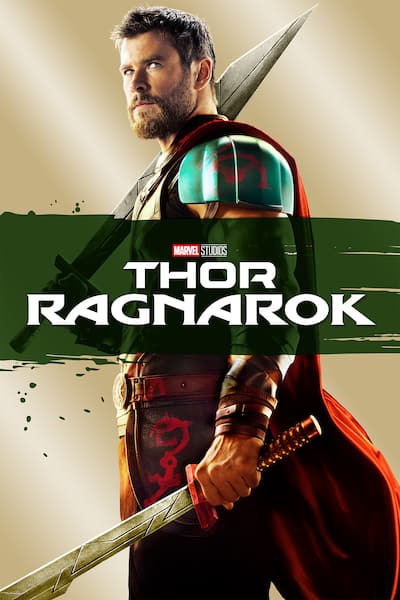 License required for the public film screening
According to the Finnish Copyright Act, public screening of the film requires permission. With the movie license annual permit, you can present the service's software from a source intended for private use of your choice.
Thor – Ragnarök
2017 | 131 min | K-12 | action, adventure, comedy, fantasy, sci-fi
Thor is once again focused on finding the Eternity Stones. However, his search has not progressed and it takes a new direction when he learns that his father Odin is no longer in Asgard. Thor finds out that Loki, disguised as Odin, has indeed ruled Asgard, and he forces his brother to join him in searching for his father.
The search for Odin takes a new turn when the goddess of death, Hela, is freed from her mystical prison and declares herself the ruler of Asgard, a kingdom of characters from Norse mythology. Thor unfortunately ends up imprisoned on the other side of the universe on a gladiator-loving planet, without his Mjölnir hammer. Thor and the crooked Loki have to join forces against Hela and they have to get back to Asgard in a hurry to prevent Ragnarök – the destruction of their home world and the end of the Asgardian civilization.
Before that, however, he must survive a life-threatening gladiatorial battle where he must face his former ally and fellow Avenger – the Hulk! Directed by Taika Waititi. As actors, e.g. Chris Hemsworth, Tom Hiddleston and Cate Blanchett.
---
About the movie
Keywords
humoristic
imagination growth
intertextual
rolemodels
superhero
warmth
Genres
action
adventure
comedy
fantasy
sci-fi
For media educator
In the movie Thor – Ragnarök the action of the adventure traveling to other worlds is familiar from the previous Marvel films, comic-like and fast-paced, but compared to Thor's previous films, a particularly down-to-earth humor blooms here. Many events put a smile on your face and the words of the characters are warm-hearted, teasing, and funny.
The most humorous character belongs to the director of the film, Taika Waititi himself, whose Korg plays funny jokes throughout the film. Like the previous Thor films, Ragnarök deals with the brotherly relationship between Thor and Loki as a subplot. They are each other's enemies, but still, they share childhood memories and a certain kind of togetherness. Just like siblings often have in real life. The brothers also find out they have an older sister who is Hela, the goddess of death.
Hela, on the other hand, is like the Lucifer of Christianity – strong and rebellious in her powers, and because of that, transferred by her father, the god Odin, to be the overseer of manala, and therefore bitter. However, as the villain of the story, Hela is one-dimensionally evil, and the reasons for her character or actions are only superficially explained. The film once again shows team spirit and friendship that overcomes adversity but also sacrifice for the greater good and the hero's discovery of himself through that. Thor is also searching for himself and with that accepts the fate defined for himself. (Source Media-avain.fi)