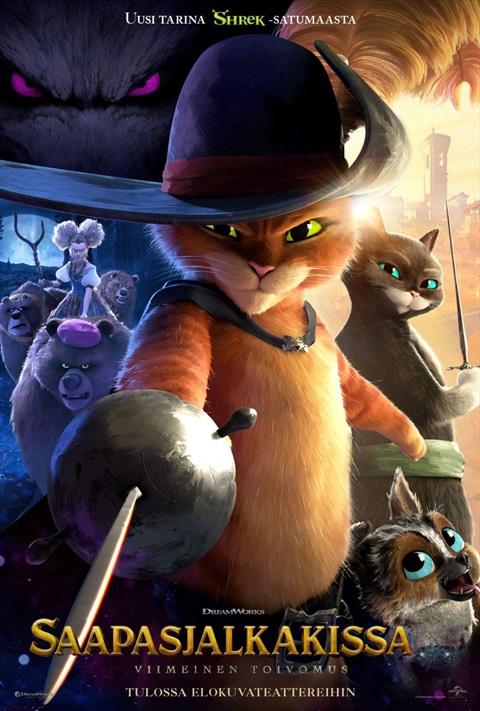 License required for the public film screening
According to the Finnish Copyright Act, public screening of the film requires permission. With the movie license annual permit, you can present the service's software from a source intended for private use of your choice.
Puss in Boots: The Last Wish
2022 | 102 min | K-7 | adventure, animation, comedy
Puss in Boots returns when he realizes that he has already used up eight of the cats' nine lives.
However, getting his lives back is unsafe because Puss in Boots has only one life left. He decides to ask his former opponent, Kitty Softpaw, for help. A Spanish dog, Perro, also joins him on his journey. To regain Puss in Boots' lives, the trio must head towards the Black Forest and the Wishing Star.
The journey is challenged by Puss in Boots being chased by the bounty hunter Big Bad Wolf and the Three Bears Mafia, who are after the same Wishing Star.
Watch the movies online
Rent now:

Buy now:

Stream now:

---
About the movie
Subjects
environmental studies
geography
spanish
Keywords
animal characters
communication skills
courage
death
defeating difficulties
friendship skills
humoristic
imagination growth
intertextual
relationships
rolemodels
succeeding
team work
Educational levels
high schools and vocational schools
middle schools
primary schools
For media educator
Puss in Boots is a familiar character from children's storybooks, which DreamWorks brought back to life in its Shrek films at the beginning of the millennium. Since then, the cat, who likes heroic deeds and adventures, has also been seen in his own self-titled film and in the Netflix series. (Source: Media-avain)
Read more from Koulukino