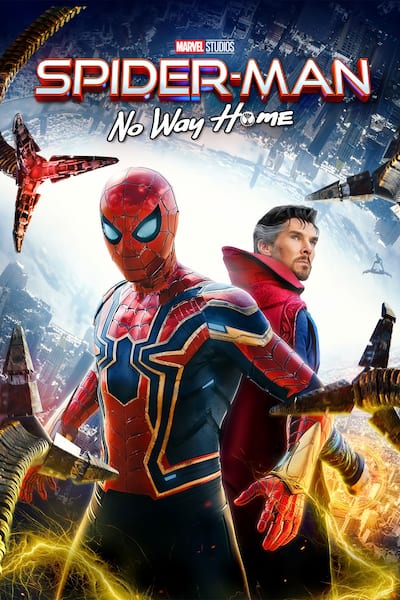 License required for the public film screening
According to the Finnish Copyright Act, public screening of the film requires permission. With the movie license annual permit, you can present the service's software from a source intended for private use of your choice.
Spider-man: No Way Home
2021 | 148 min | K-12 | action, adventure, fantasy, sci-fi
Peter Parker is unmasked and no longer able to separate his normal life from the high-stakes of being a super-hero. When he asks for help from Doctor Strange the stakes become even more dangerous, forcing him to discover what it truly means to be Spider-Man.
---
About the movie
Keywords
hero story
humoristic
intertextual
respectful
rolemodels
superhero
thought awakening
warmth
Genres
action
adventure
fantasy
sci-fi
For media educator
Spider-Man: No Way Home is the third Marvel Spider-Man film. Not only that, it's an integral part of the universe of the Avengers movies. The film is also attached to the Spider-Man movies that were released earlier in the 2000s.
To get the most out of the film, in addition to the Tom Holland-starring Spider-Man films, the Spider-Man trilogy directed by Sam Raimi in the years 2002-2007 and starring Tobey Maguire, Andrew Garfield's two The Amazing Spider-Man films, the latest The Avengers movies and Doctor Strange, and the knowledge of the Marvel series published by Disney+ and Netflix is ​​not a bad thing either. The animated adventure Spider-Man: Into the Spiderverse, released in 2018, also offers the film its gripping surface.
So, due to all these references to previous releases, the latest Spider-Man adventure cannot be recommended as the first Spider-Man movie. It's a movie for the Marvel fan who knows that world inside out.
This time, the sarcastic Doctor Strange plays the role of the teenage hero's father figure, and in addition to this, the mutual friendship of young people and the importance of doing well again take center stage.
Spider-Man: No Way Home is a fast-paced, humorous and warm-hearted adventure, as is traditional for Marvel films, but this time we also see more darkness and, in the end, a huge personal sacrifice. During the movie, Peter Parker, played by Tom Holland, has to grow from a teenager to an adult and take responsibility for saving the whole world.
Peter wants to see good in everything, even in seemingly impossible directions, which is why he almost destroys our world. While doing good, he once again has to experience great losses.
The film features one very sad character's death, which makes Spider-Man momentarily forget his inner goodness. With the help of his friends, he finds himself again even amid the darkness. However, while doing good, he has to make a personal sacrifice and therefore lose his friend – luckily, not to death. (Source Media-avain.fi)