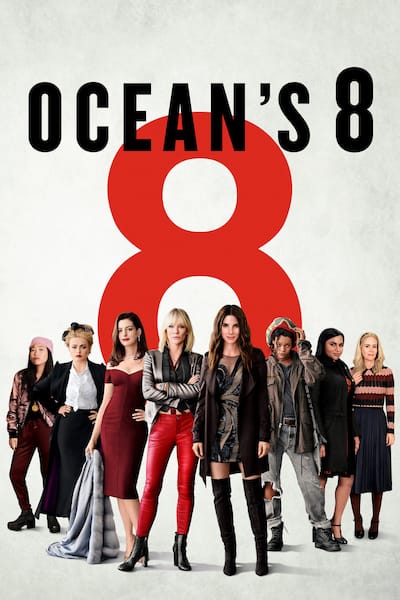 License required for the public film screening
According to the Finnish Copyright Act, public screening of the film requires permission. With the movie license annual permit, you can present the service's software from a source intended for private use of your choice.
Ocean's 8
2018 | 111 min | K-7 | action, comedy, thriller
Big Heist King Danny Ocean is dead, or not. At least Danny's sister Debbie doesn't believe in Danny's death, who, like almost her entire family, is also a fraud and a thief. Debbie herself has spent five years in prison after her partner cheated on her. During this time, he has been planning the biggest gig of his life – and revenge.
Debbie plans to rob world-famous actress Daphne Kluger of a Cartier diamond necklace worth 150 million dollars at New York's biggest celebrity event, the Metropolitan Museum Gala. The jewel has been safe in the vault for 50 years and now it will finally arrive for the gala guests to admire. Debbie gathers the best professionals in the industry in her team; his friend Lou Miller, goldsmith Amita, street thug Constance, trocar Tammy, hacker Ysipallo and fashion designer Rose.
The plan is a diamond in the rough, but the execution must be perfect if the team is going to get in and make it out with the rocks. Under all eyes. Directed by Gary Ross. As actors, e.g. Sandra Bullock, Cate Blanchett and Anne Hathaway.
---
About the movie
Keywords
diverse
humoristic
intertextual
postion of women
relationships
For media educator
Ocean's 8 is a spin-off of the villainous Ocean's crime comedy trilogy (Ocean's Eleven 2001, Ocean's Twelve 2004 and Ocean's Thirteen 2007). The film continues e.g. on the path indicated by the latest Ghostbusters movie in updating the popular movie series with female characters for the modern era – in this case, though, mostly by male filmmakers.
A brilliant cast of actors portrays independent, strong and intelligent women with a great touch, but of course the objects of interest of female criminals must be fashion galas and jewels instead of casinos. In the film, there are glimpses of friendship and solidarity between women, but it's about the pursuit of self-interest and a happy life, as in crime comedy films in general.
Typically for the genre, the criminal lifestyle is presented as glamorous and cool. Non-white women are also seen as clever members of the gang, such as pop star Rihanna as a master hacker. (Source Media-avain.fi)