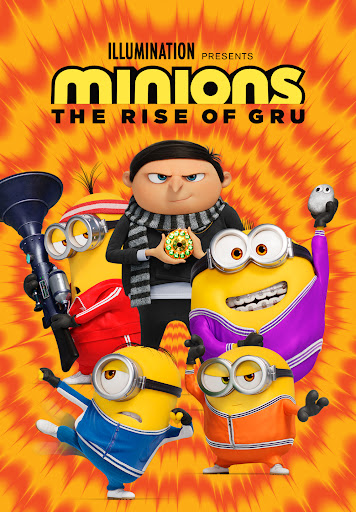 License required for the public film screening
According to the Finnish Copyright Act, public screening of the film requires permission. With the movie license annual permit, you can present the service's software from a source intended for private use of your choice.
Minions: The Rise of Gru
2022 | 87 min | K-7 | action, adventure, animation, comedy, family
Long before he becomes the master of evil, Gru is a 1970s suburban 12-year-old boy who plots world conquest in his basement, albeit with poor success. When Gru runs into the Minions, which include Kevin, Stuart, Bob, and Otto – who is the newest minion with braces and a desperate desire to please – this thoroughly oddball family joins forces. Together, they build their first cave, design their first weapons, and begin preparing for their first missions.
---
About the movie
Keywords
diverse
intertextual
warmth
Genres
action
adventure
animation
comedy
family
For media educator
The minions, who act as side characters in the minions films, have already received their second film. Minions: The Story of Gru tells the story of 12-year-old Gru, whose wish profession is a supervillain. 
The yellow minions, except Gru who is opposite, often behave like a child of nature, which also gives the film plenty of humor. The story, seasoned with fast-paced collision comedy and mild cartoon violence, is really like a collection of minion sketches. At the heart of the story is the unwavering loyalty of the kind minions.
The minions are ready to save Gru from trouble at any cost – even when Gru himself seems to have already abandoned his minions. Gru learns that even a supercriminal can't go it alone. (Source Media-avain.fi)