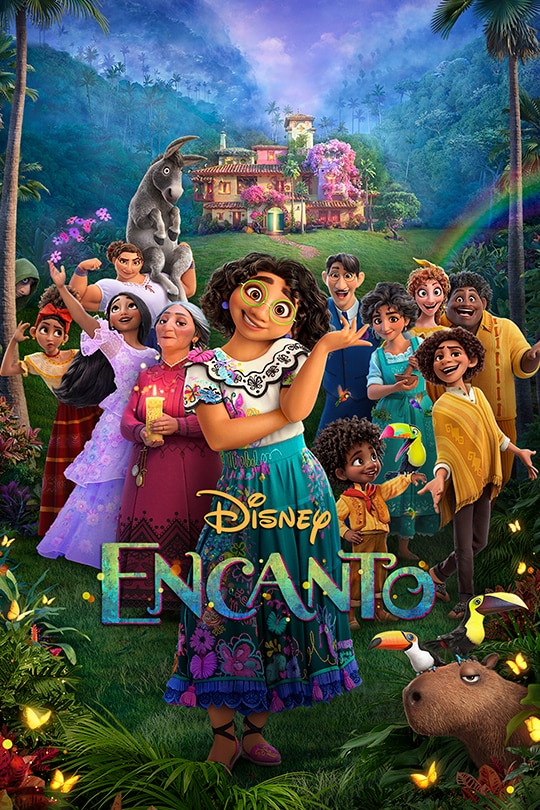 License required for the public film screening
According to the Finnish Copyright Act, public screening of the film requires permission. With the movie license annual permit, you can present the service's software from a source intended for private use of your choice.
Encanto
2021 | 102 min | K-7 | animation, comedy, family, fantasy
The extraordinary Madrigal family lives hidden in the mountains of Colombia, in a wonderful enchanted place called Encanto. Encanto has blessed each child in the family with a unique special gift, from super strength to the ability to heal. Of each, except one: Mirabella. But when she learns that the magic surrounding Encanto is in danger, Mirabel decides that she—the only ordinary Madrigal—may be the extraordinary family's only hope.
Directed by Jared Bush, Byron Howard, and Charise Castro Smith. The film was awarded the Oscar for a best animated film.
---
About the movie
Keywords
helping others
imagination growth
optimistic
rolemodels
succeeding
thought awakening
warmth
Genres
animation
comedy
family
fantasy
For media educator
Mirabel, the main character of the colorful Disney musical, is the only member of her family without magical powers. The rest of the family treats the helpful and friendly Mirabel mainly with a warm spirit, but the feeling of being an outsider still pops up.
Although Mirabel tries to be positive about her ordinariness, she can't help but wonder why she's different. As the story progresses, Mirabel learns that she doesn't need superpowers to achieve heroic deeds. Fine skill is also not always a good thing but can cause problems for its wearer. Living according to the expectations of others without taking your feelings or desires into account can be a heavy burden, even if you live a perfect life in the eyes of outsiders.
The atmosphere of the film is mostly cheerful, but it also contains excitement for the youngest children. The main character also gets into a threatening situation a couple of times, for example, a collapsing building. However, situations quickly resolve themselves for the best. The main message of the film is that everyone is special in their way. The importance of family and cooperation are also central to the story. (Source: Media-avain)