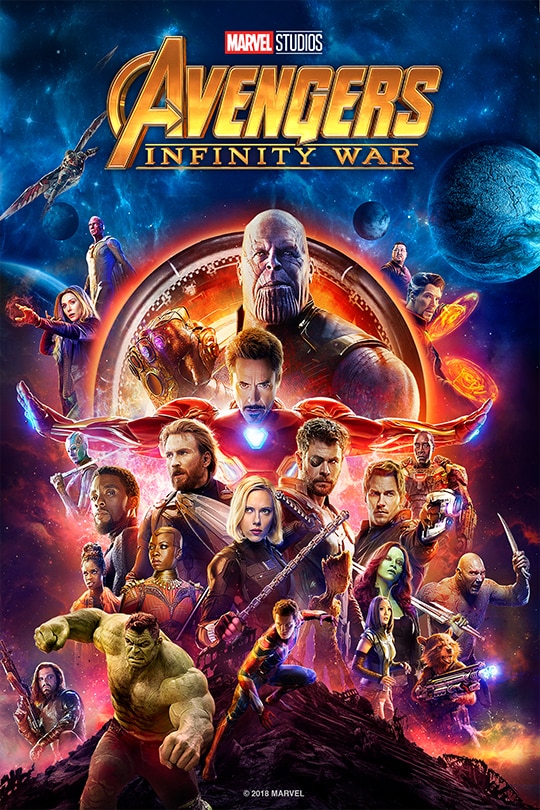 License required for the public film screening
According to the Finnish Copyright Act, public screening of the film requires permission. With the movie license annual permit, you can present the service's software from a source intended for private use of your choice.
Avengers – Infinity War
2018 | 149 min | K-12 | action, adventure, sci-fi
The complacent Thanos has gotten it into his head that the balance of the universe requires killing a huge number of its inhabitants. To do that, he chases the five-eternity stones born at the beginning of time. With their help, he plans to stop the overpopulation that plagues inhabited planets by killing half of the universe's population at once.
The Avengers and their allies must be willing to sacrifice everything to defeat the invincible Thanos before he destroys the entire universe. The stones are scattered on different planets, so the Avengers forces have to split up. But when Thanos' inferior minions already feel invincible, the heroes' self-sacrificing action can only feel like delaying the inevitable. The film features almost all the heroes of the Marvel universe; Thor, Iron Man, Doctor Strange, Captain America, Spider-Man, Hulk, Black Widow and Black Panther, as well as Guardians of the Galaxy's Star-Lord, Groot, Gamora, Mantis, Rocket and Drax.
Directed by Anthony Russo and Joe Russo. As actors, e.g. Robert Downey Jr., Chris Hemsworth, Mark Ruffalo and Chris Evans.
---
About the movie
Keywords
humoristic
imagination growth
intertextual
superhero
For media educator
Avengers: Infinity War is the darkest movie in Marvel's Avengers series to date, although its fight scenes are quite light in mood and often tinged with humor. Many of the film's villains, on the other hand, lean toward horror movie-like monsters, and the story itself is dark: even central characters die, and the film does not end happily. The film's plot leans so strongly on the other films of the Avengers series that it can be difficult to follow as an independent work.
In addition to the previous Avengers films, the most relevant references are Doctor Strange, Thor: Ragnarök and Black Panther, i.e. the three previous films in the series, as well as the Guardians of the Galaxy films, whose story is now connected to the Avengers series. Infinity War may be difficult to understand due to its intertextuality,  but the expanding Marvel Universe is also fascinating in its multidimensionality. (Source Media-avain.fi)