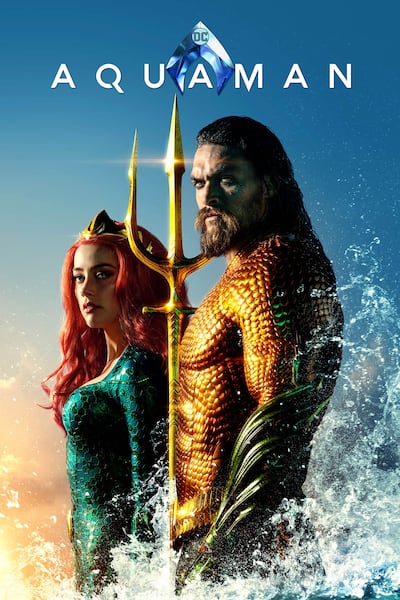 License required for the public film screening
According to the Finnish Copyright Act, public screening of the film requires permission. With the movie license annual permit, you can present the service's software from a source intended for private use of your choice.
Aquaman
2018 | 143 min | K-12 | action, adventure, fantasy
Arthur Curry is half human and half Atlantean. He lives a quiet life in a small coastal town with his father Arthur, who is waiting for Atlanna, the queen of Atlantis and Arthur's mother, to return. Arthur can't believe his mother's return and is not interested in the affairs of Atlantis.
When Mera, princess of the seas, asks for Arthur's help to stop her half-brother Orm, Arthur refuses. However, Arthur has no choice when Ormin plans to start a war against the people living on the surface. Arthur and Mera go around the world looking for the mythical trident of King Atlan.
With it, Arthur could become the true ruler of the seas and defeat Orm and the war that threatens the whole world. On his journey, Arthur must face his true self and find out if he is worthy of his birthright – the king of Atlantis. Directed by James Wan. As actors, e.g. Jason Momoa, Amber Heard and Willem Dafoe.
---
About the movie
Keywords
environmental education
imagination growth
intertextual
superhero
For media educator
Aquaman is primarily a fast-paced fantasy adventure, and its atmosphere is lighter than the previous films of the Justice League series. The action scenes, as is typical of superhero films, are very light and distant, and the fantasy tone of the film softens them even more.
The sexualization of Aquaman, which is hinted at by the character's previous appearances and the star image of the title actor, has been deliberately kept to a minimum: Jason Momoa politely keeps his shirt on for almost the entire film. The film's child safety is really only violated by visiting the kingdom of sea monsters, because this short episode has a scary atmosphere and contains horror movie-like elements.
The two-and-a-half-hour film moves at a brisk pace from one fast-paced action or adventure scene to another, and in that sense is easy to follow considering its duration. On the other hand, for the viewer who gets tired of action scenes easily, the film can be very heavy for the same reason. (Source Media-avain.fi)