You can see English subtitles from video's ⚙️-image.
Make Working More Fluent and Efficient with Elokuvalisenssi
Have you used film as a teaching tool? In addition to the fact that films can be used to reward students for a well-run school day, they are an excellent way to broaden young people's world view and deepen the subjects they are taught. In many cases, even films intended for entertainment care are common with the themes running through the curriculum, making them useful when teaching school subjects. Elokuvalisenssi offers public performance permits (Combination License, Annual License, and Single Movie License), and the Elokuvalisenssi movie service makes it easier to choose a film, while also offering links to Koulukino's high-quality learning and discussion materials.
For many young people, historical films can be a natural way to learn about past times. Things characteristic of the past era, such as clothing and living environment, are revealed to viewers effectively through visual storytelling. Especially more serious topics can be easier for growing children to handle through the story told by the film.
Living with the human destinies told in the film also gives students useful tools for dealing with their own life experiences Elokuvalisenssi's online service has been developed to facilitate the use of film as a teaching tool. The service gathers together a huge amount of information about films. Different learning themes and materials are supporting cinematic teaching, which facilitates and speeds up teaching planning.
The use of the service is based on the use of various search functions, which makes choosing the wished material smooth and fast. You can search for a film with learning materials that are suitable for the lesson and the theme being taught using a theme word, subject or educational level search. 
Koulukino – Achieved Supporter in Movie Education Field
Koulukino ry, which bases its activities on the values ​​of the Ministry of Education and Culture and the national curricula, aims to promote children's and young people's film hobbies, cooperation between schools and cinemas, and school cinema operations. Koulukino's free learning materials linked to curricula and supporting films in cinema distribution are information and task packages of varying scopes that encourage the use of film as a teaching tool. The teaching materials serve as a good conversation starter when going through the movie watched together in the lessons. Elokuvalisenssi's online service brings together Koulukino's learning materials of the films we represent.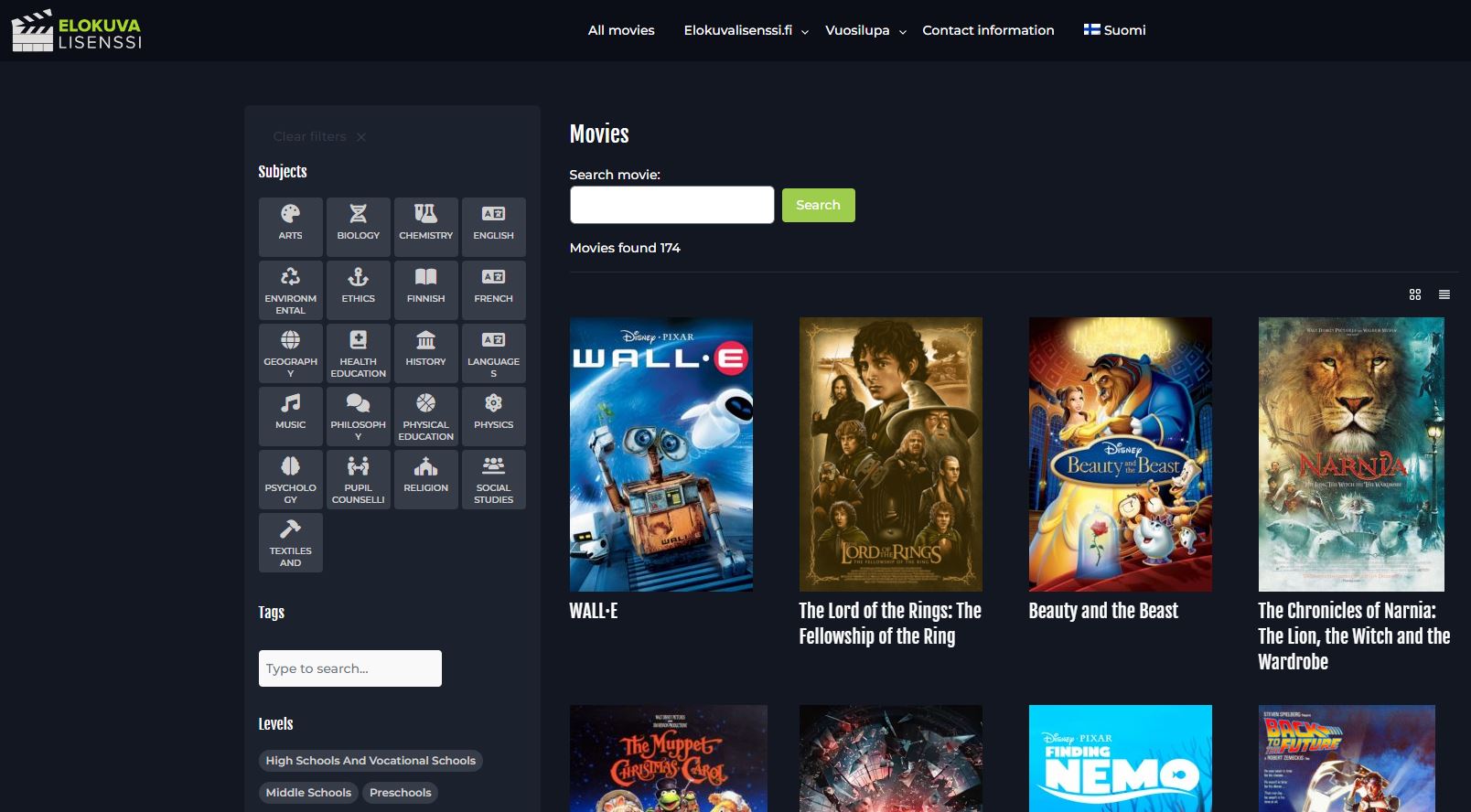 Exploiting Elokuvalisenssi's Service Outside the School World
We want all our customers to find a suitable movie as easily as possible. In the movie search of Elokuvalisenssi's service, you can find a comprehensive selected collection of the films we represent. Search for an adventure film to support an event or occasion, an animated film for a young audience, or a topical film, for example at Halloween and Christmas time.
In the section "For media educators," you can find more detailed information about, among other things, what kind of audience the film is suitable for and what topics it deals with.
In the section "For media educators" you can find more detailed information about the selected movie. This content is produced by Media-avain. Information tells e.g. which age audience the film is suitable for and which topics it deals with. The section gives foreknowledge about the movie and gives tools to talk about the movie experience. This helps our customers working outside of the education field as well. You can read the entire material produced by Media-avain from the Media-avain materials link in the film's profile. Koulukino's experts produce Media-avain materials, especially looking at the positive content of the films. 
We want to highlight selected films in the service, so if you can't find a suitable film in the catalog, you can show other films that we represent. In case of doubt, contact us and we will check the film's rights. Please note that Vuosilupa only includes international studios, you need Yhdistelmälupa or Kertalupa to screen movies from our domestic movie collection. Yhdistelmälupa is only for non-commercial businesses.
Taking into Account Copyright
The purpose of copyright based on legislation is to protect operators in the creative industry. To use Elokuvalisenssi's online service fairly, we grant the necessary licenses for public use of films. C
Compare our license applications